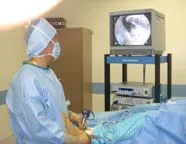 "I had been diagnosed with a painful neuroma which had severely limited my running. I am an active runner and a busy physician. I had been offered surgery as the only remedy, but did not want to take 4 weeks off running or miss work.
Dr. Cha offered me another, non-surgical, injection therapy which has cured my neuroma. I was able to run 2 days after the treatments and did not have to miss any time off my busy schedule. I am running 5 miles every other day with no pain. Thank you!" Doctor D.L.
---
"I am a diabetic with a chronic foot wound, which developed into a bone infection. I was told by an orthopedist that a leg amputation was necessary. After treatments with Dr. Cha and an infectious disease specialist, my wound has healed and I did not have to have any amputations. I am walking and I am very grateful to Dr. Cha for saving my leg!" Mr. L.C.
---
"I was involved in a car accident which left my foot severely deformed. I developed a painful callus/wound which did not improve with another physician. Dr. Cha advised me that a deformed bone caused the wound, which he performed a surgical remodeling of the bone. The wound healed quickly and I am walking pain free." Mr. M.L.
---
"I presented to Dr. Cha with a very painful plantar callus. I really appreciated his diagnosis and him giving me several options, including surgery or trimming with specialized inserts.
I really look forward to my appointments every 2 months for the callus shaving. The inserts and shaving has helped me put off the surgery." Mr. J.M.
---
"My 11 year old daughter had painful flat feet. Shoe inserts did not help. I was advised by another doctor that major surgery and 2 months of casting was necessary.
However, Dr. Cha offered an alternative surgery, involving an implant which would limit some of her flatfeet. My daughter was on crutches for about 5 days and was able to walk without pain on the 6th day. She was back to full activity at 3 weeks and we avoided a major surgery and rehabiliation thanks to Dr. Cha's alternative surgery." Mrs. L.N.
---
"I knew I should do something about my sore feet, the commercial foot inserts were just making things worst. Finally a friend recommended I talk to Dr. Cha. He did a total foot exam and found out that I had a pinched nerve. And instead of having me come back for another appointment, he got me measured for the orthotics that day. Boy, what a difference they made. My feet just melt into my shoes now and the chronic pain is gone." Mr. T.T.